Patrick Roche
Born: August 28 1883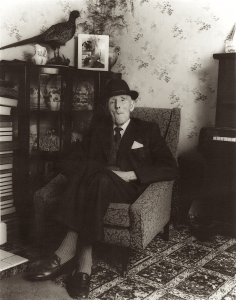 As I set up my camera, Patrick seemed to be taking everything in and was excited about posing for his portrait. He chose to sit in his favourite chair and wear his best suit and hat for the occasion, though I was assured he had always been a very smart dresser. Patrick played Gaelic football and hurling and still enjoyed nothing more than watching a good game on television.
Patrick reared five children, all of whom, sadly, had passed away by the time he and I met for this portrait. This left an empty generation between him and his five grandchildren.
Patrick, a rural dweller, was a lifelong farmer and a highly-regarded judge of livestock. However, he was just as proud of his reputation far and wide as a matchmaker, which extended even into neighbouring counties. He said he still enjoyed a drink and a pipe everyday, which he had done for more than eighty years, and he was therefore clear about the recipe for a long life: 'Plenty of hard work, a drop of Paddy (Irish whiskey) and a drop of Guinness (black Irish stout)'. What a gentleman!