Ivan Beshov
Born: July 02 1883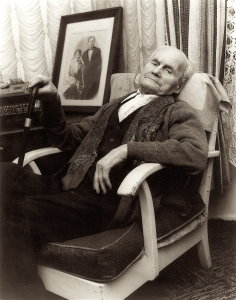 Although born in Russia, Ivan, a wonderfully loquacious subject, considered himself 'as Irish as the day is long'. In 1905, after a mutiny onboard the battleship Potemkin, on which he told me he was a crewman, he jumped ship and fled to London. Today, most historians see the Potemkin mutiny as the beginning of the Russian Revolution. It was in London in 1912 that he met Lenin, he said, describing the future Russian leader as being poor and dishevelled at that time.
In 1913 Ivan moved to Dublin, a city, he told me, he had never once wished to leave, and where he had been residing for seventy-one years when we met.
After a long, fascinating chat, he led me into a locked parlour filled with mementoes and photos of his late wife. Apart from family members, he informed me, Irish Taoiseach (Prime Minister) Charles J Haughey was the only person who had been allowed to enter this sanctum in the previous decade (on that occasion, Mr Haughey had come to congratulate Ivan on his 100th birthday). It was there, in that special room, that I photographed Ivan next to his wedding portrait and a beloved model of his old ship. In the course of conversation he told me he felt like he was only fifty, not 101, and he attributed his longevity to good natural food, hard work, and 'something in the blood'. His father and grandfather, he said, had lived to be 106 and 112, respectively. A riviting encounter.